---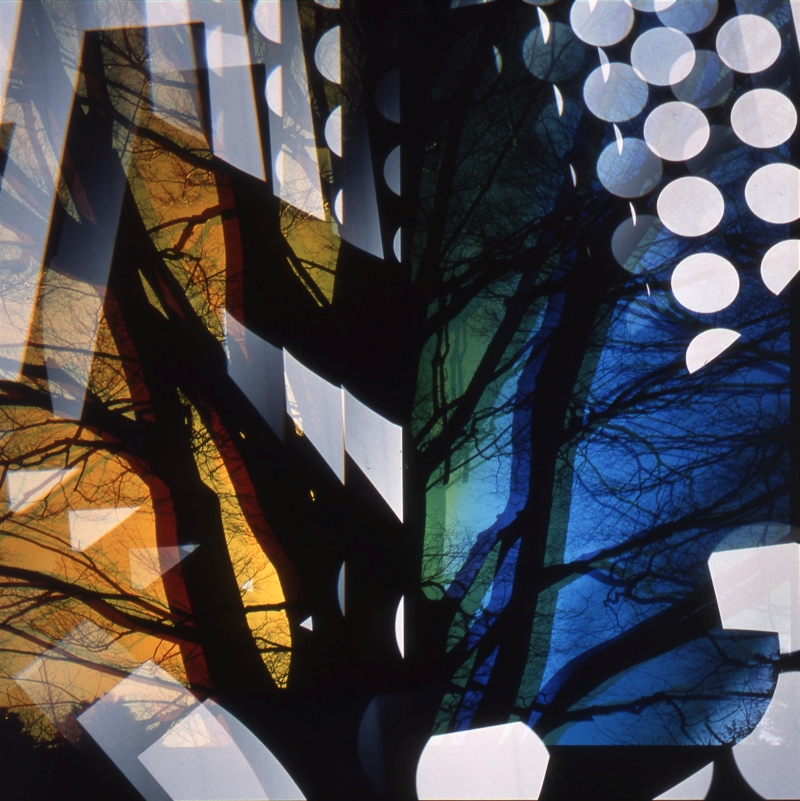 Color and Form Overlapping
The multi-exposure work of Color and Form that this part is about has been gracing the cover of the Takenaka Corporation's in-house magazine Approach for a long time.
By capturing the beautiful silhouettes of trees, superimposing architectural structures and other manmade elements, and occasionally adding shots of sketchbooks with painted pictures, Ishimoto has created a set of playful photographs. Preferring the tight air in the winter, he mainly did such multi-exposure work in that time of year. The resulting color series is a rather rare and unique item among his body of otherwise purely black-and-white work.
In 1984, Ishimoto received a considerable sum of money when the life insurance he had taken out a long time ago expired. In "commemoration of his longevity," Ishimoto used that money for making Color and Language, a small private-edition book that contained his multi-exposure photographs alongside texts written by his wife Shigeru. In 2003, he further published the photo book Color and Form combining the multi-exposure and Flowers series. The series of multi-exposure works isn't really one that deserves a particular mention, but it has been published in various shapes at various occasions. As Ishimoto has been working on this series since 1953, it must be one of those that have been accompanying him for the longest period of time.
Another unique series of color photographs is Food Journal, which was serially published in Asahi Camera in 1982. These are close-up shots of fish and vegetables packaged in shrink-wrapped trays as usually found in supermarkets, with product labels reading "Red snapper \1250" or "Tempura set \189" attached to the packages. This series featured again essays by Shigeru. While her childhood memories related to food make for a light and merry read, the references to today's flood of par-cooked, processed fish and vegetables, and other food deprived of its original freshness, contain a notion of nonchalant criticism toward the industrialization, mass production and mass consumption of food in contemporary society.
On the 22nd of last February (2006), Shigeru, Ishimoto's wife who had spent more than fifty years at the photographer's side, passed away. Known as a happily-married couple in photographic circles, the two of them was always a jolly sight. Being his wife, his assistant, and his producer, Shigeru contributed texts to many of Ishimoto's photo books, exhibition catalogs and magazine features in addition to the above-mentioned examples. Reading his wife's writings and looking at the photographs once again, Ishimoto's supposedly rather austere photos mysteriously begin to appear so lively that one can almost see the photographer humming while skipping down the street.
At the recent anniversary of Shigeru's death, close friends got together to "honor the memory of Shigeruko" (which is Shigeru's real name). I returned home with a bag of cherry blossom colored kompeito sweets (in reference to the timing of Shigeru's death before she could see the cherry blossoms), a small Baccarat vase that Ishimoto had chosen "because she liked glass," and a collection of Shigeru's literary remains.
(Published on May 2, 2006)
Kageyama Chinatsu, curator at the Museum of Art, Kochi
Ishimoto Yasuhiro Photo Center