---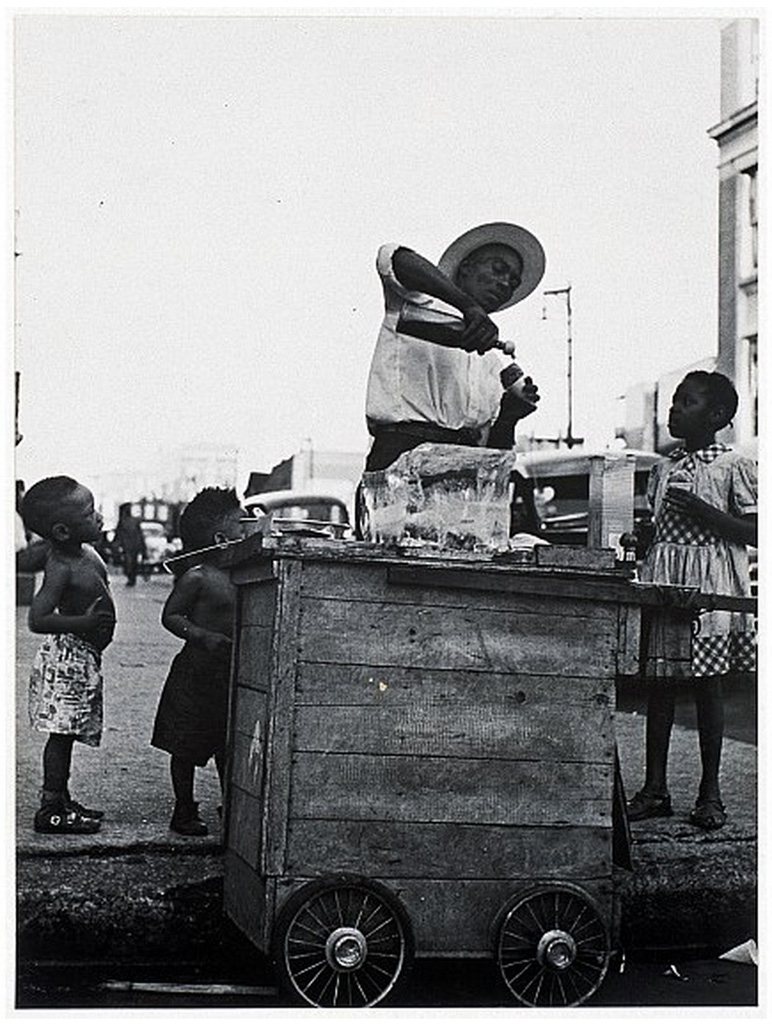 Black People's Quarters in Chicago
Every year between June and August, Chicago turns into a stage for a variety of blues and jazz festivals such as the Chicago Blues Festival, the world's biggest admission-free blues festival that has been attracting hordes of blues fans to the city.
The event offers an extensive program of blues performed by musicians ranging from amateurs to professionals, and even though black music styles tend to be associated with the southern states, Chicago has turned into a "capital of blues" that even has it's own style, the so-called "Chicago blues".
The wartime boom of World War I had energized Chicago's trade and steel industry, which resulted in a flood of black people coming to the city from the south in order to find employment. Black people's quarters and slums emerged next to the central shopping district in Chicago's South Loop area. As Ishimoto's school was located near such a slum, he often went there for shooting, which resulted in a "streets with no names" themed series of photos of children in slums (which at the time weren't very dangerous).
Located in one of the slums is Maxwell Street, the cradle of the so-called Chicago blues and Mecca of blues in general. In this area the stages aren't in the clubs but on the streets, where numerous live performances take place using the power outlets of nearby shops or apartments. In addition to live music, there are several street markets in the area as well.
During his time at the school, Ishimoto filmed the people in Maxwell Street for The Church on Maxwell Street (1951), a documentary short film he made together with his friend, photographer Marvin E. Newman. Featured among others are musicians performing on the street, spectators gathering around them, and quack doctors claiming to heal incurable illnesses through special powers. The camera captures an allegedly sick man's feet as they move to the beat of the music, and another man's scurfy hands. Ishimoto's photographic perspective is strongly echoed throughout the film. Characterized by a sticky contrast of black and white, the images combine stylish beauty and a certain sense of humour. As Maxwell Street saw its heyday between the 1940s and 1960s, it is captured here right in the middle of its glory days. The featured musicians are rather big shots as well.
Besides this one, Ishimoto was involved also in other film projects. In 1955 he produced the experimental film Kine Calligraph together with photographers Kiyoji Otsuji and Saiko Tsuji, and in 1964, he was in charge of photography for Ako (also known as White Morning; directed by Hiroshi Teshigawara), the Japanese contribution to the international omnibus movie The Adolescents.
(Published on July 5, 2005)
Kageyama Chinatsu, curator at the Museum of Art, Kochi
Ishimoto Yasuhiro Photo Center