---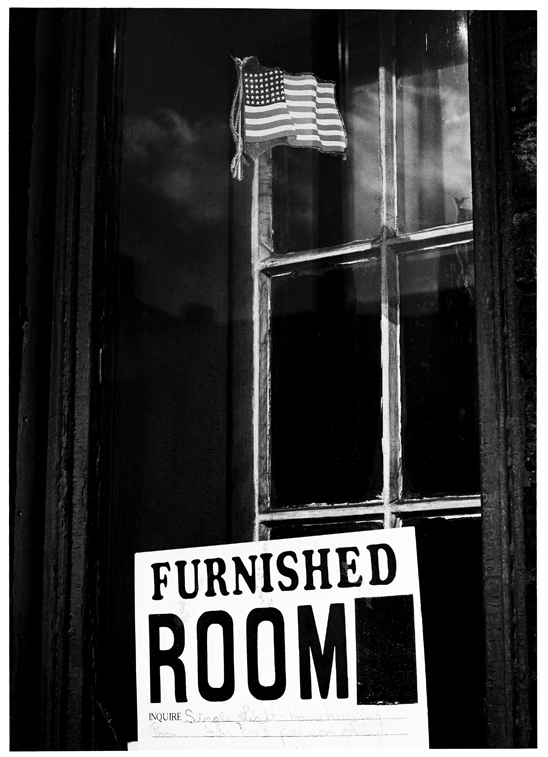 The Final Years in Chicago
"Half a year after returning to America, Shigeru (Ishimoto's wife) found employment at S.H. Mori's gallery selling works of Japanese arts and crafts, while I started working as a photographer. With the Minolta SR1 over my shoulder, and usually about ten rolls of film in my pockets, I was crisscrossing the city of Chicago from one end to the other." (Asahi Camera, 1962)
During the second period of Ishimoto's stay in Chicago between 1959 and 61, old houses were torn down here and there for redevelopment purposes. Eager to capture that old Chicago that was being destroyed, Ishimoto hit the streets in the soft evening light to avoid the heat at noon.
In the economically blossoming USA, the national flag was put up at various places in the city, and as a matter of fact, the Star-Spangled Banner frequently appears in Ishimoto's photographs. A look at these pictures suggests how much the Americans like their Stars and Stripes. Or rather, they are obviously proud of their country. At the typical American-style parades one could usually see white, black and Asian people alike waving the flag.
This photo shows a signboard on a rental apartment, reading "FURNISHED ROOM". Offering a room "fitted with the basic, useful and desirable equipment," to Ishimoto the signboard seemed to be communicating the confident American spirit, as if saying, "Everything you need is here, and it's all for you," "The windows aren't great though…" he commented laughing.
Rental apartments in the USA range from empty rooms to apartments complete with all necessary furniture and commodities. Ishimoto and his wife temporarily settled down in a furnished room in the suburbs. In order to develop the pictures he had taken during the day, Ishimoto made turning the small kitchen into a darkroom at night part of his daily routine.
Just recently, the long-established camera manufacturer Minolta announced their withdrawal from the photo business including cameras and film. The rapid decline of the practice of photographing with film and printing onto photo paper, triggered by the rise of digital technology, is not really surprising, as it is was to expect, and eventually became a reality. In addition to developing products, Minolta has also been supporting cultural and academic activities. Back when Minolta was still Chiyoda Optics, founder Tajima favored Ishimoto, and offered support from his company for the time he was living in Chicago. Ishimoto went on to focus on his photographing endeavors, and what was initially supposed to be one year eventually became three. "It was the support from Minolta that made it possible to extend the period of my stay in the first place, and I am still deeply grateful for that!" (Asahi Camera, 1962)
In 1960, a solo show of Ishimoto's work was held at the Photo Gallery of the Art Institute Chicago, followed in September 1961 by a three-man exhibition at the Museum of Modern Art, New York (featuring also works by Bill Brandt and Lucien Clergue), after which Ishimoto left Chicago. He destroyed the 3,000 prints he had made in Chicago, and returned to his home country with the desire to "photograph things in Japan while using the experience of three years in Chicago as a steppingstone."
(Published on February 7, 2006)
Kageyama Chinatsu, curator at the Museum of Art, Kochi
Ishimoto Yasuhiro Photo Center