---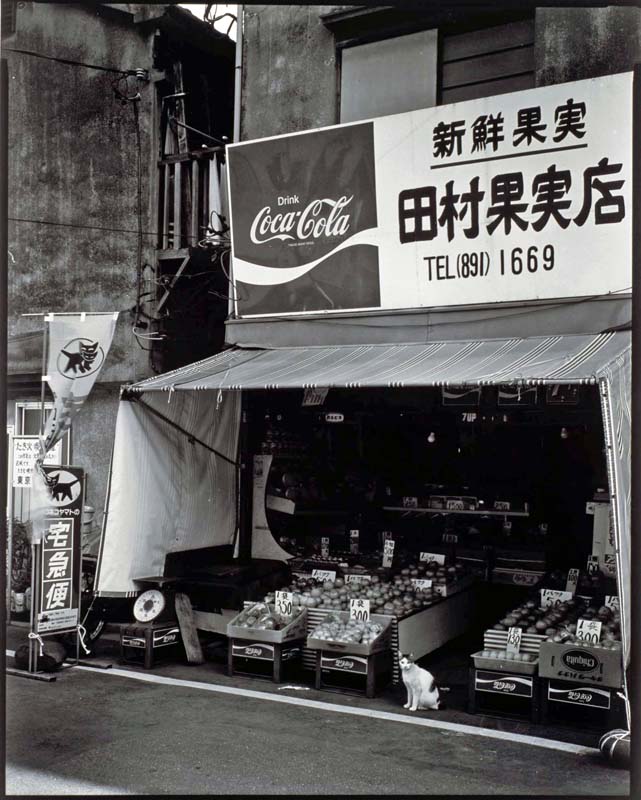 Around the Yamanote-Line, Tokyo
The cat that poses at a 45-degree angle while looking straight at the camera makes a pretty good model. With its dignified presence it almost looks like the owner of this fruit and vegetable shop, while comparing it with the kuroneko (black cat) symbol of a certain delivery service on the fluttering banner on the left makes one laugh. This photo was shot on 8 x 10 inch film with a large format camera.
8 x 10 inch film is about one quarter the size of a newspaper page. Compared to the 35mm film we normally use, which is small enough to fit in the palm of a hand, 8 x 10 film is enormously large, and the amount of information the film can hold is dramatically bigger. It vividly and lusciously highlights even small details of objects within a wide scope.
As large format film doesn't come in rolls, one has to slot sheets of film one by one into the camera, and fix the large camera firmly before shooting. Equipped with this monstrous camera, Ishimoto started taking photos around stations along the Yamanote Line for the "Tokyo, Yamanote-Line 29" series in the 1980s. While capturing sceneries of highrise buildings in Shinagawa, giant housing complexes, and Tokyo Station under construction on the one hand, on the other hand he shot photos in a souvenir picture style of garbage collectors, students on a school excursion, cabaret doormen, young hooligans and other people on the street. From the depicted buildings and people 's outfits one gets a fairly good idea of what Tokyo looked like in the 1970s and '80s.
Large format photography is mainly used for such purposes as printing large posters, or for commemorative photos at weddings and other special occasions, while I think hardly anyone employs it for recording everyday kinds of events (apart from the fact that people today use digital cameras anyway). The gap between film size and subject seemed odd to me, and when asking Ishimoto about it, he ducked the question and claimed, "That's just for fun. 8 x 10 has that particular atmosphere, and that texture…"
When inquiring further about the surprising fact that those scary looking hooligans allowed him to take their photos in the first place, Ishimoto explained that he "couldn't do that with 35mm film, but for some reason large-format seems to be fine." "As soon as I come with a small camera, weak-kneed and timid as if trying to sneak a shot, they get angry, but when I approach them confidently in a 'here I am' manner with a large camera, they have nothing against it."
In the Tokyo cityscapes photographed with a large format camera, even the perfectly ordinary everyday is orchestrated like a holiday to remember, while at the same time, one can also sense a "hushed" kind of wistfulness in them. Japan was about to enter the era of the so-called bubble economy, with buildings being torn down and rebuilt one after another, and the course of this restlessly passing time seems to be containing accumulations of such varied, disjointed scenes of everyday life.
Taken with a large format camera while standing still and zooming in point-blank on each subject, rather than capturing the rapidly changing face of the metropolis Tokyo in a fluent motion, the photographs in this series fascinate with the things they depict, but even more than that, with Ishimoto's challenging approach to them.
(Published on December 5, 2006)
Kageyama Chinatsu, former curator at the Museum of Art, Kochi
Ishimoto Yasuhiro Photo Center